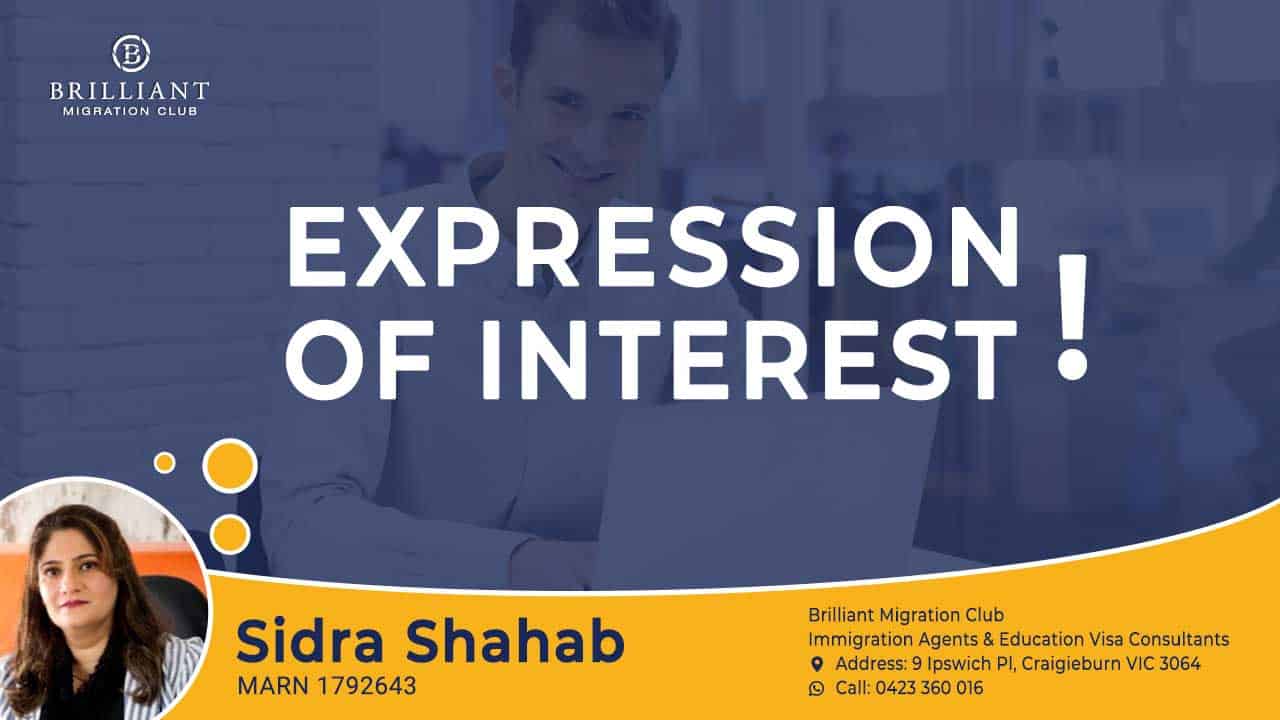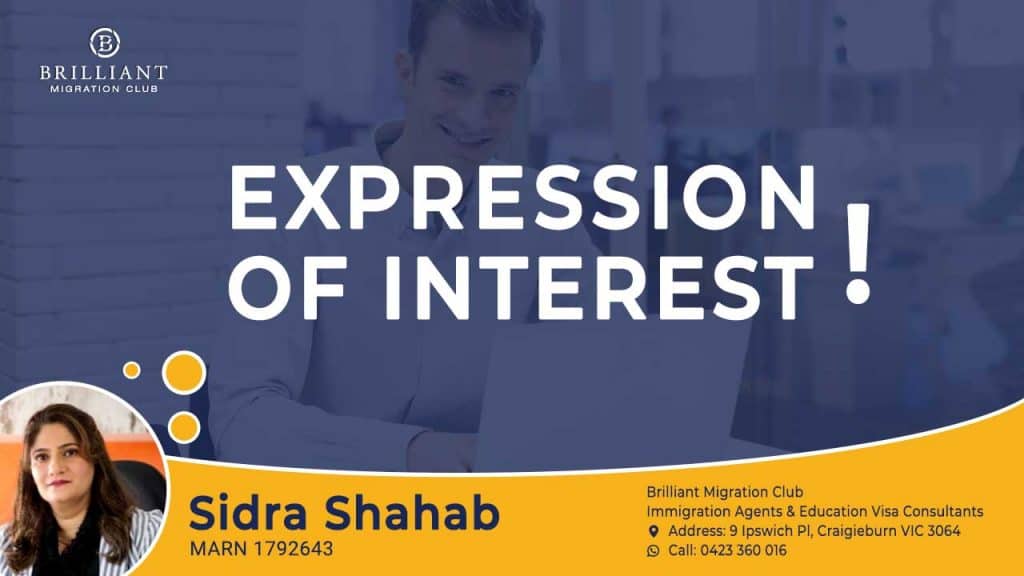 Expression of Interest
SkillSelect is Australia's online application system. It is made for skilled and business migrants. Every person who wants to apply for a skilled visa in Australia can benefit from this system.
A skilled worker or business person from overseas who wants to migrate to Australia should use SkillSelect to make an expression of interest (EOI).
The applicant must have to submit the Expression of Interest for a skilled migration stream of Australia through SkillSelect.
The Expression of Interest is lodged to express an interest that an applicant would like to apply for an Australian skilled migration visa. It is a pre-visa information application to the Australian Government and Australian Authorities. To make it more clear, we would define it as a pre-state nomination application for skilled visas except for subclass 189 visas (no nomination from Australian State or Territory Government is required for this Visa).
Type of Visas for Which EOI is Required
Skillselect is used for both skilled and business visas for lodging the EOIs but most widely used for three Australian skilled migration visas –
Skilled Independent Visa (subclass 189) – Points-tested Stream,
Skilled Nominated Visa (subclass 190) (Permanent) and
Skilled Work Regional (Provisional) visa (subclass 491)

State and Territory Nominated
Family-Sponsored
The business visas for which EOI can be lodged include,
Business Innovation & Investment Subclass 188 Visa (Provisional)

Business Innovation
Investor
Entrepreneur
Significant Investor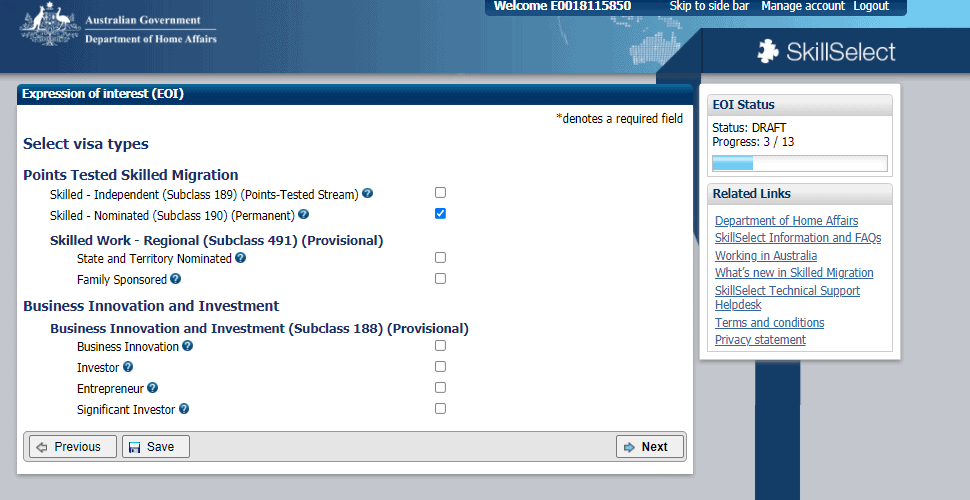 Creating the EOI Account:
For lodgment of EOI, the EOI account is created first.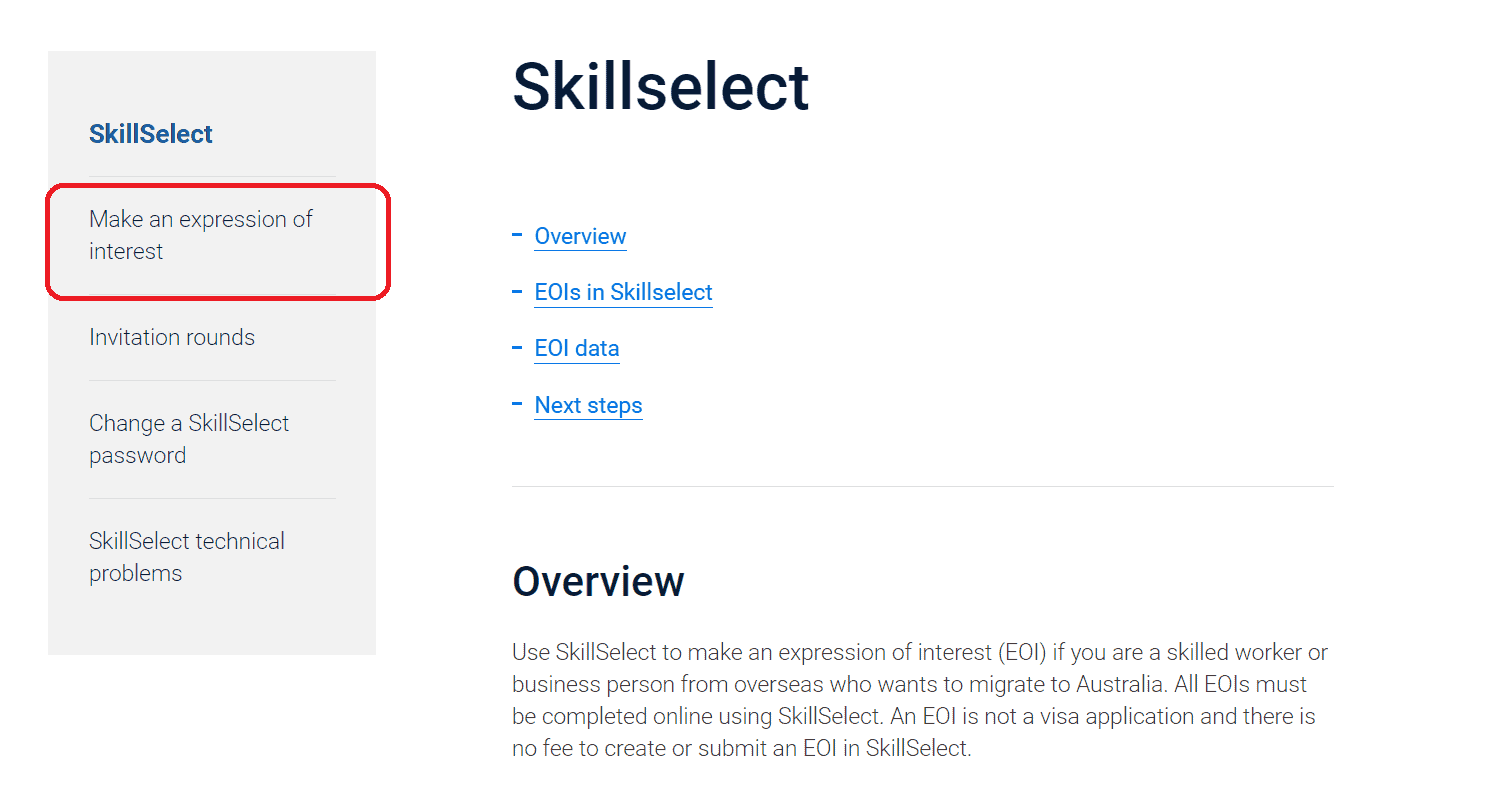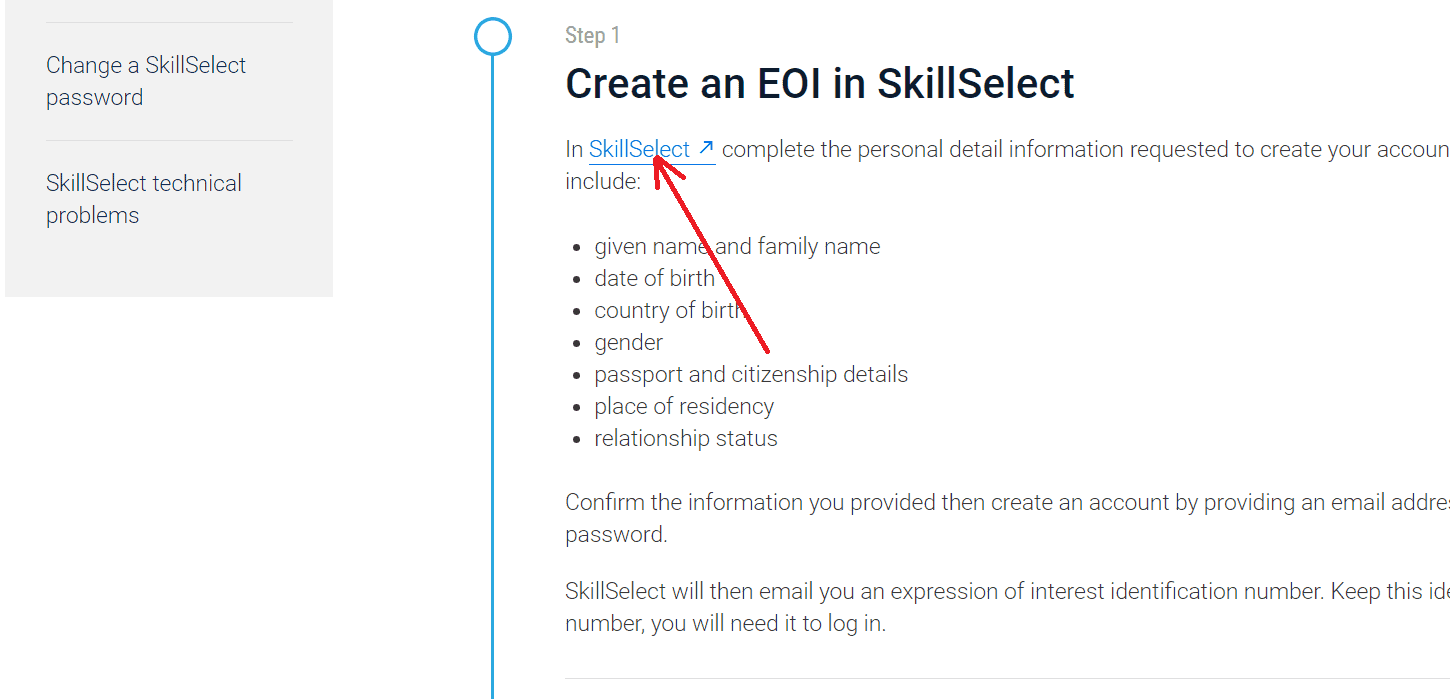 During creating the EOI, the applicant will need to fill in some
Bio details,
Passport and Citizenship Information
Residential Information and
Declare Marital status
Email address
Create password for EOI Account and
Choose and answer three security questions for recovery of EOI account in future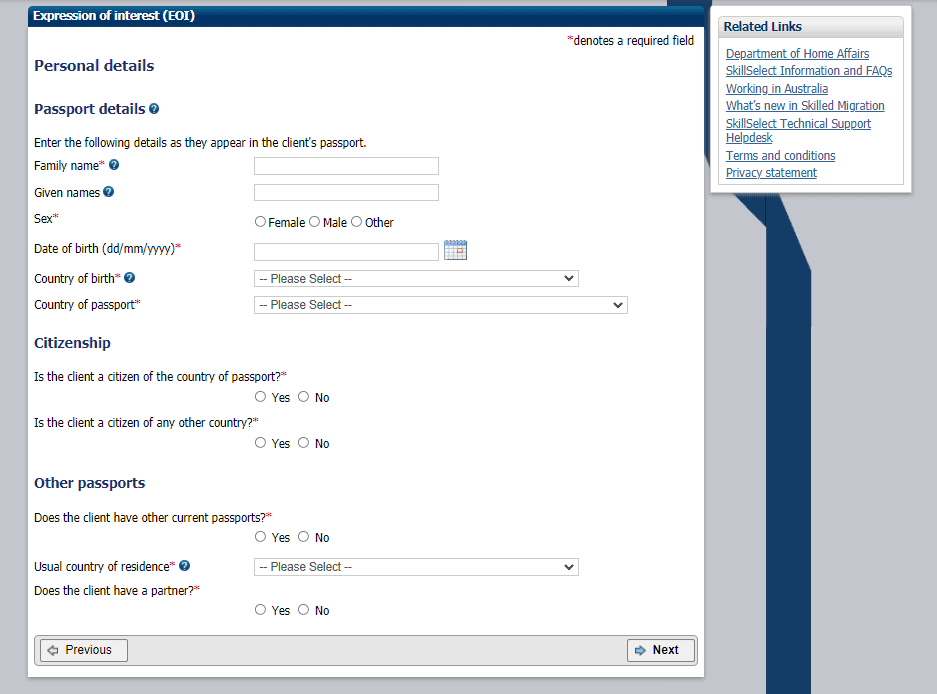 Information Required to Complete in the EOI:
The Information to Include in Expression of Interest (EOI):
Personal information (Previously Provided during Creation of Account but can be updated)
Type of Skilled Visa looking nomination for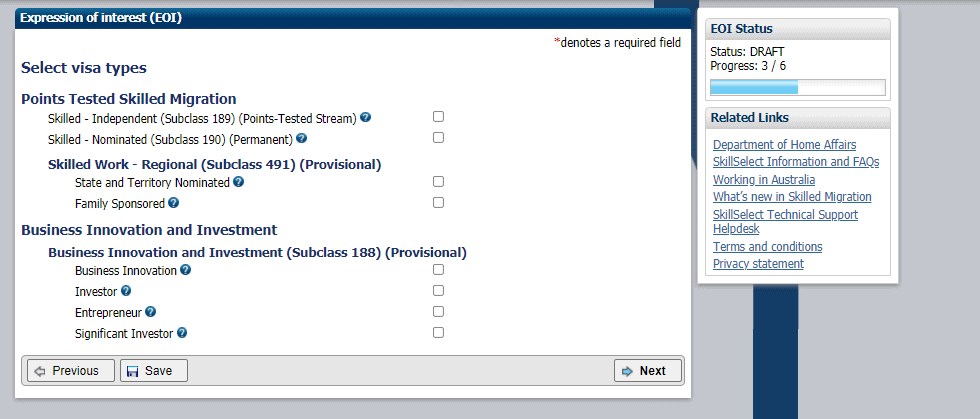 Number of Accompanying members of Family Unit (if invited for visa application)


Partner English Proficiency Information (If Applicable)

Test Name
Test Date
Test Reference Number
Points of Reading, Listening, Writing, and Speaking

Partner's Skills assessment information (If Applicable)

Nominated Occupation
Name of Assessing Authority
Date of Skill Assessment
Reference Number of Skill Assessment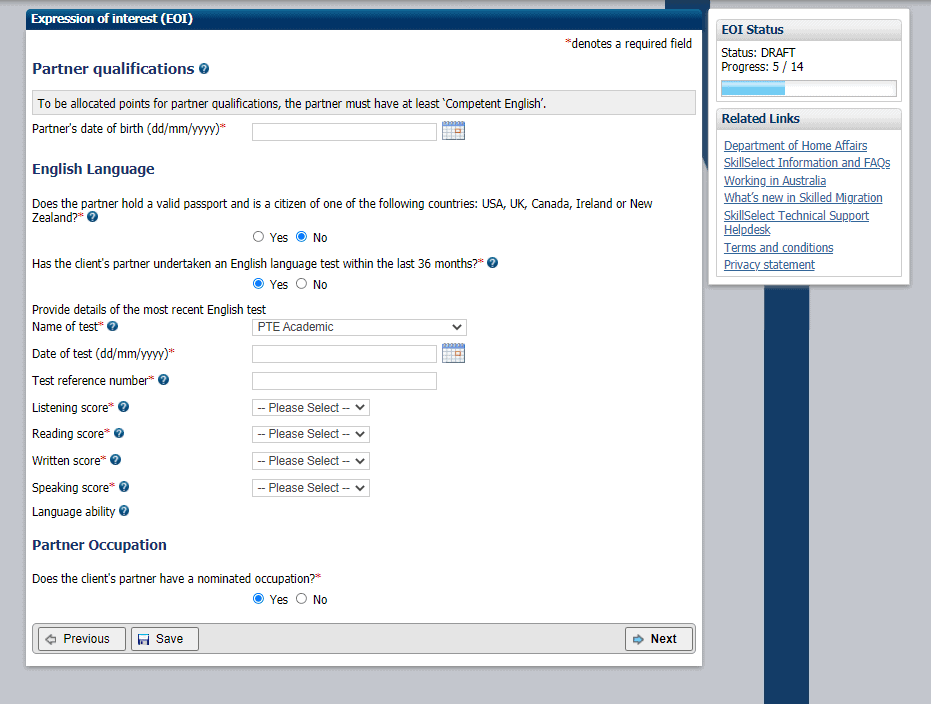 Selecting the Australian State Seeking Nomination from (excluding subclass 189)

English language proficiency information
Test Name
Test Date
Test Reference Number
Points of Reading, Listening, Writing, and Speaking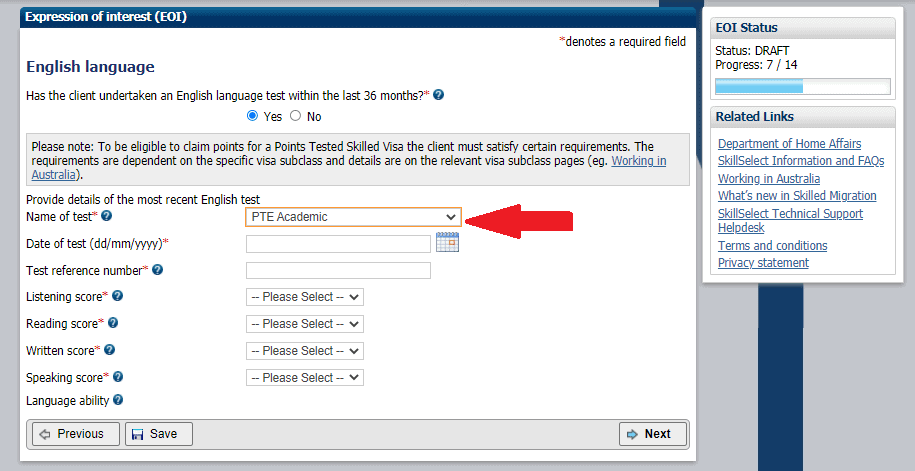 Education Information

Qualification Name
Course Name
Institution Name
Country of the Institution
If Australia
Start Date and End date of study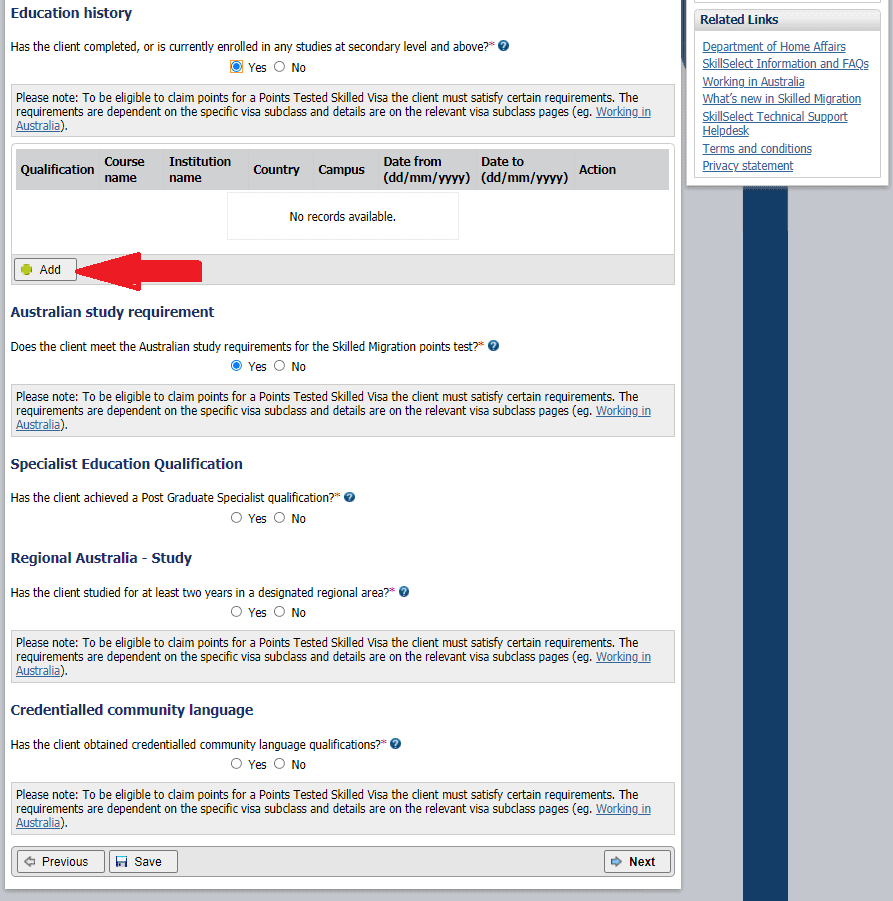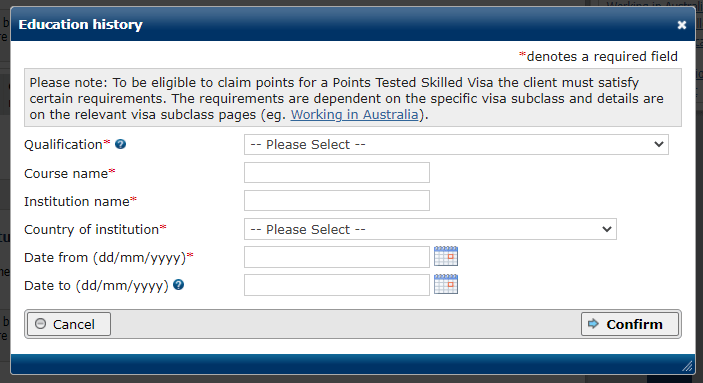 Skills assessment information

Nominated Occupation 
Name of Assessing Authority
Date of Skill Assessment
Reference Number of Skill Assessment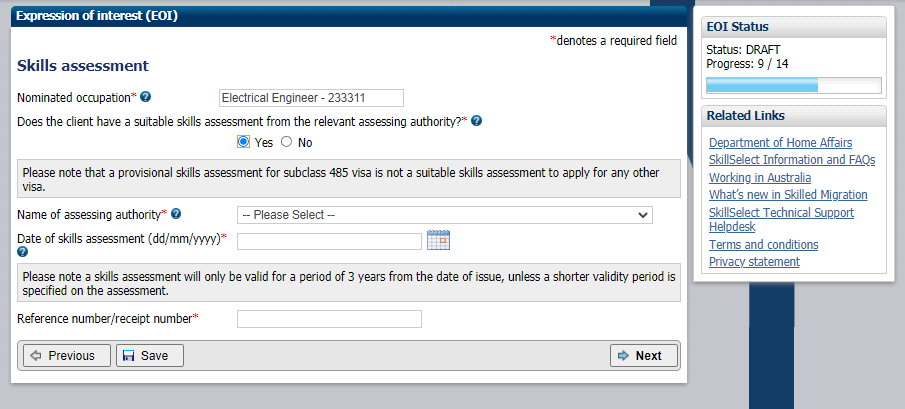 Offshore or/and Onshore work experience information

Position
Employer name
Country
If Australia
Is this employment related to the nominated occupation?
Date from (dd/mm/yyyy)
Date from (dd/mm/yyyy)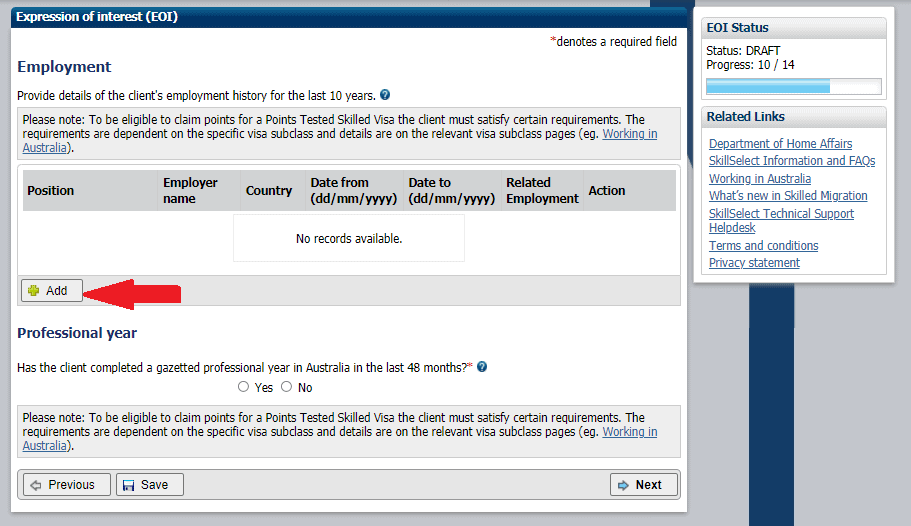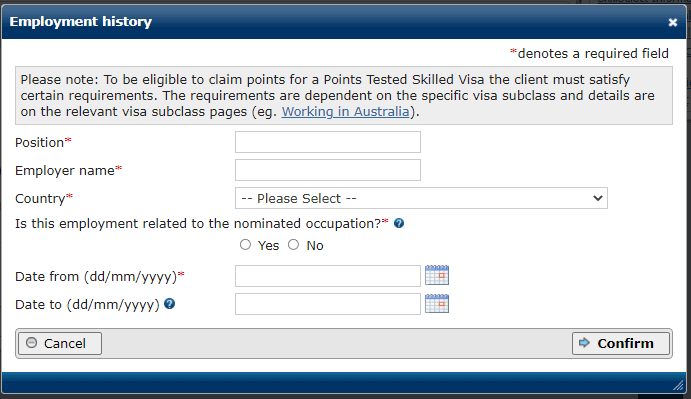 Review and declarations
Check the information entered.
Carefully Read and Tick Each Declaration.
Reviewing the final application.
The applicant can click on "previous" or "amend details" to change the information.
If the information entered is correct, click "Submit".
No Fee Required to Pay:
It is Important to Know that there is no fee to create or submit an EOI online in the SkillSelect system. EOI is free of charge and the Department of Home Affairs does not any charge any fee because it is just an application that shows an interest in a visa and not a proper skilled visa application submitted to the Department of Home Affairs.
Note: Applicant is able to complete an EOI in SkillSelect even if he/she doesn't meet the pass mark, but he/she will not be eligible to be invited to apply for a visa.
After Submitting the EOI:
Once the applicant completes and submits the EOI application, it is stored in SkillSelect for 2 years. It means a single EOI valid and eligible for the invitation rounds occur in these two years.
Incomplete EOIs are also stored for two years but they are not considered by Australian Authorities and therefore do not get any invitation for nomination and visa application.
After submitting the EOI the applicant can download its preview and points breakdown for his/her record.
Updating the EOI:
The applicant can edit and update the submitted EOI as many times as they want by clicking the "Update EOI" button in EOI account. It is highly suggested to provide the most accurate information each time the EOI is updated.
But the applicant may want to update the EOI, when
Applicants gain new work experience or
He/she gained a higher qualification
The applicant improved his/her English Language Ability
The applicant family make up has changed or
Changes occurred in Partner Skill Assessment or English Language Ability
In case of all the above circumstances, the applicant should immediately update his/her EOI as they may also affect the points score, and may improve the applicant's ranking. It is the applicant's responsibility to ensure he/she doesn't provide any incorrect, false or misleading information on his/her EOI. If he/she does so, his/her application might be refused.
Removal of EOI from SkillSelect:
The EOI is removed from SKillselect if,
The applicant receives 2 invitations and he/she don't lodge a visa application in response to either of these invitations, or
if the applicant receives an invitation to lodge a visa application for a permanent or provisional skilled or business visa and is subsequently granted that visa.
Suspension of EOI:
EOI in SKillSelect also gets suspended when the applicant has been invited for a Visa application through SkillSelect and he/she lodge that visa application.
Indication Emails from SkillSelect:
The applicant receives an immediate email from skill select in the Email which is given during the Creation of the EOI Account. In case of any change occur to EOI through the SkillSelect system or Authorities have taken any action on an applicant EOI.
Example 1: The applicant's English Language Ability Test or Skill assessment becomes invalid or applicant's work experience category changes because the applicant has indicated an EOI that he/she is still working for a current employer.
Example 2: The applicant receives an invitation to apply for a Visa application or a reminder of a Visa application lodgment because the expiration time of the visa invitation is arriving soon.
EOI and Invitation Round:
After the submission of EOI, the applicant is ranked by a points score system. Applicants with the best points scores are generally issued with an invitation to apply for a visa. More work experience, higher qualifications, and better English scores increase the applicant's chances of getting an invitation.
Most of the state's issue invitations for nomination based on EOI submitted on SkillSelect. The EOI that fulfill the criteria and points score set in the invitation round get selected and the applicant gets an invitation to apply for nomination. Each state selects its own criteria (besides their main criteria for nomination) and points scores in Invitation rounds according to the deficiency of skilled workers they need to fulfill in the state.
Some states need some additional information from applicants before choosing the EOIs for nomination and gather more information from applicants to choose the deserving candidates for fulfilling the deficiency of skilled workers in the state and ease the process of nomination. Canberra Matrix, Victoria's Registration of Interest (ROI), and NSW 491 Register your Interest are few examples of the additional applications that Applicants require to submit after the submission of EOI to show interest and his/her eligibility for the state nomination.
Submitting More than One EOI in SkillSelect:
The good news for skilled applicants is that they can submit more than One EOI in SkillSelect System. For example, an applicant can submit EOIs for subclass 189, 190, and 491 visas in SkillSelect and SkillSelect, and the Department of Home Affairs will not mind it at all. The applicant is also permitted to submit EOIs for more than one States if he/she fulfill the nomination criteria of those states.
This is very helpful in increasing the chances of nomination and opportunities for skilled migration for skilled candidates looking to migrate to Australia.
It is also important to know that applicants having valid skill assessments in more than one occupation can also submit separate EOI with each skill assessment.
So, it is a blessing from the Australian government that they provide such a beneficial Expression of Interest System for people looking for skilled migration in Australia.
Need Help with EOI:
Australian Immigration is very simple but still Department of Home Affairs and Australian Authorities issue updates regarding state and territory nominations. Keeping and understanding those updates is sometimes harder for an ordinary person who doesn't have the knowledge of Australian Immigration to understand. Going for the lodgment of EOI without understanding the chances of nomination in a particular occupation or state or type of EOI leads to wastage of time and EOI refusal.
To make the EOI and Australian Immigration process successful for the applicants, Migration Agents Registration Authority, Australia has granted MARA Certificates to Expert Migration Agents in Australia. These agents are experts in the Australian Immigration process. Hiring the services of a registered migration agent for an EOI completion and submission and further immigration process increases the chances of a person to a successful visa grant.