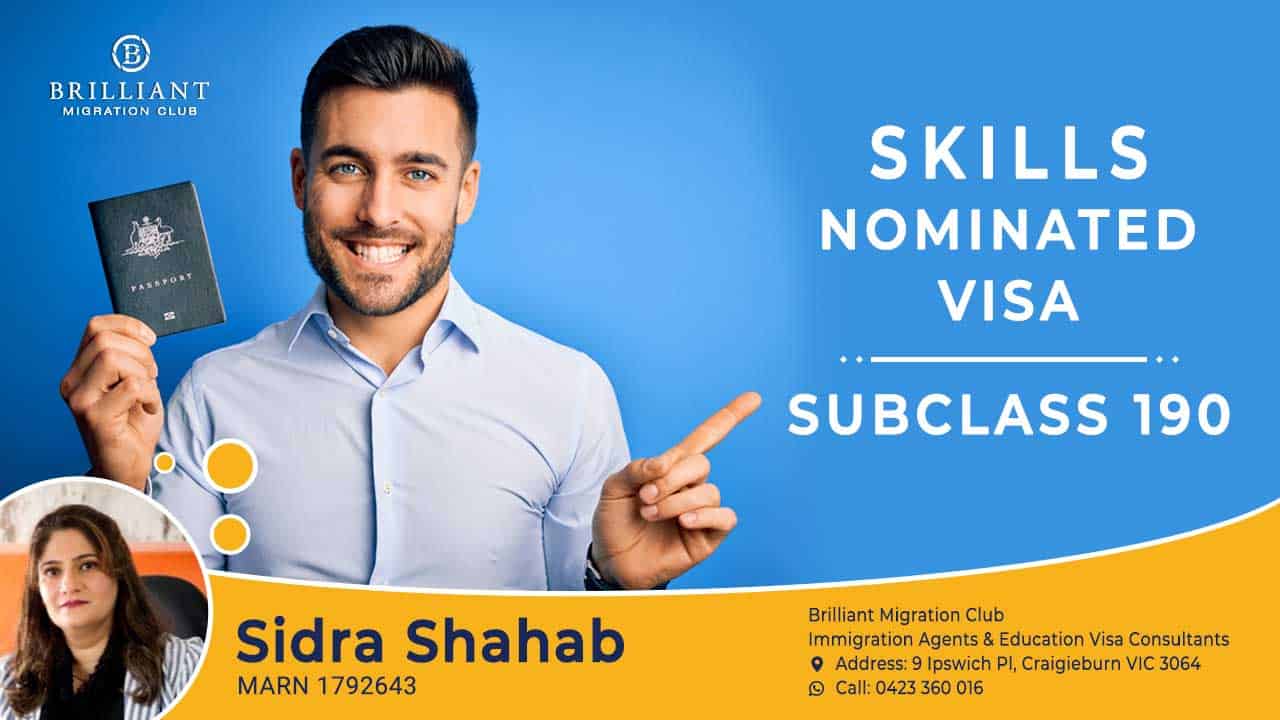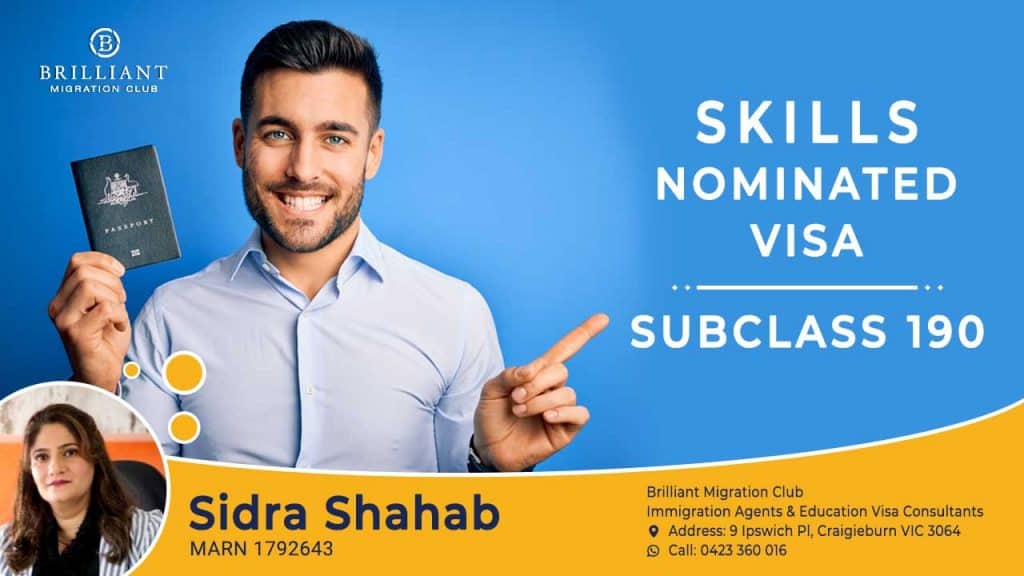 Skilled Nominated Visa Subclass 190 Visa
Skilled nominated Visa subclass 190 is the second most popular Australian Permanent Residency Visa after Subclass 189. It allows the visa holder to reside permanently in Australia for an indefinite period. With this visa, you will be entitled to do a job, access health care schemes, study, and benefit from social funds. 
The main difference between this Visa and Subclass 189 is that the Visa holder must live in the state that originally nominated you for your application. However, you can live and work freely anywhere in Australia after residing for two (2) years in a specified state (that nominates you). You can also include an eligible relative in your Visa application. The visa holders can also apply for citizenship after meeting the CItizenship eligibility criteria.
General Eligibility Criteria for Skilled Nominated Visa Subclass 190
To be eligible for the skilled nominated subclass 190 visa, you must satisfy the following conditions:
Applying for a relevant occupation specified on the 190 skills occupation list. Generally, each Australian State and Territory has its own list that is derived mainly from STSOL and MLTSSL.
Being nominated by a particular state or territory.
Going through skills assessment with a registered authority for the specific occupation.

Lodging Nomination application with respective State or Territory. You'll get five (05) extra points from the State or Territory that will be added to your overall points.
Lodging an Expression of Interest (EOI) through Skillselect. It is free, and you will be ranked against other aspirants for visa invitations, based on your overall test score. Those with high scores will be preferred. 
Meeting the minimum test passing marks (currently 65), according to the latest information released by the department of home affairs Australia. 
Having age between 18 and 44. 
Having competent English in language tests, e.g 6 bends minimum in IELTS.

Citizens of New Zealand, Canada, the United Kingdom, the United States, and Ireland are exempted from this requirement. 
Meeting the health and character requirements. You must not have any criminal history or any fatal illness before and at the time of application. 
Having no history of canceled visa or application refusals
Points preference
As you submit your EOI, you will be compared with the other aspirants, and those with high overall scores will be preferred by the state/territory for nomination. The points calculation depends upon factors such as:
English language ability

Academic qualifications

Skilled employment

Meeting Australian study requirement (if applicable)

Meeting specialist education requirements (if applicable)

Partner points (if applicable)

And several other factors of low significance
Benefits of subclass 190 visa
The subclass 190 has many benefits that are as follows:
Right to work and live freely in Australia.

With all requirements met, the Subclass 190 visa holder can directly apply to citizenship after three (3) years.

One can also include his/her eligible relatives in the Visa application. 

Allowing the successful applicant to study any field of his/her liking. 

Permission to enroll in Medicare and social security funds.

Move anywhere in the country after two (2) years of living in the state the originally nominated the Visa holder.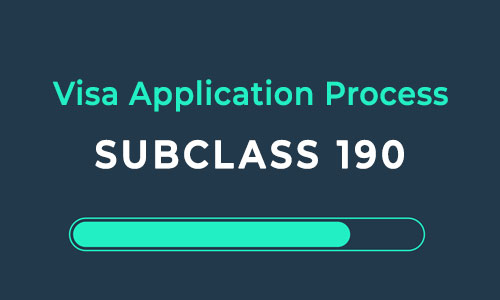 Subclass 190 Visa Application Process (general)
The visa application process differs from state to state. Below given are the general steps involved in applying for subclass 190. Application processes for specific states are mentioned afterward:
See if your respective occupation is enlisted in the Skills Occupation List. You can only apply for occupations specified by the Australian government in the respective occupation list. 
Ensure you meet the eligibility requirements
Check the Department of Home Affairs and the respective state and Territory Eligibility Criteria.
Complete the skills assessment
Attain an acceptable assessment from the concerned Skills assessment body related to your occupation. It plays a pivotal role in the application process and will add up to your overall test points. 
Obtain a nomination from the state and territory
Lodge your nominated application to the respective state or Territory.
Submit EOI (Expression of interest) through Skillselect
Submit your EOI through the Skillselect program. You will be asked a couple of questions regarding your work background and relevant working experience.
You can apply for Subclass 190 online through the official website of the Department of Home Affairs after the above requirements are completed.
Once the application is lodged, you need to wait until it is processed. It can take a few months. 
Where to apply from?
While applying for a skilled nominated subclass 190 visa, you can either be inside or outside Australia. To be able to lodge your application from Australia, you must at least hold a substantive visa to stay eligible. After the application has been lodged, you will be given a bridging visa that will allow you to reside in Australia throughout the processing duration. 
Who can be included in the application?
The following family members can be included in the application:
Your partner/spouse (including de facto and same-sex partner)

Your's or your spouse's dependant children
You can also include the aforementioned members after you have applied. 
Please feel free to contact Brilliant Migration Club if you need any further information related to Skilled Independent Visa Subclass 190.