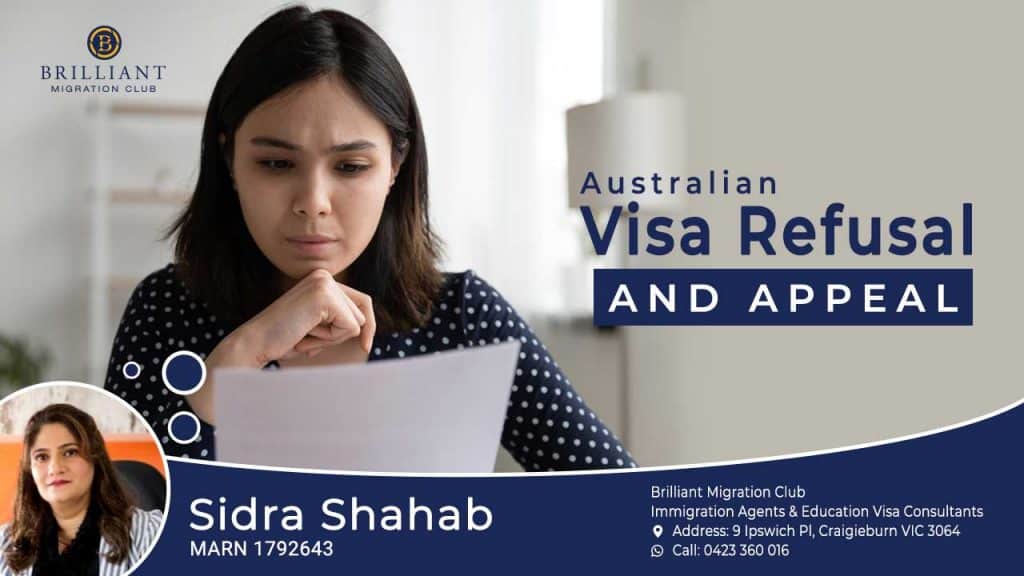 Australian Visa Refusal & Appeal
We understand that a Visa Refusal letter from the department of home affairs is the last thing a visa applicant would want to see. But, this is not the end of the story, as there might be many options to handle this situation.
Brilliant Migration Club suggests the following approach to handle Visa refusal & review appeals:
Personal Care:
Yes, this is stressful, but believe in yourself and understand that it is not the end of the world for you. Trusting yourself would wrap you with positive energies, which will help you sort out the real issue in a better way.

Be assured that many people were in this situation as you are today, but they are out of the crisis by dealing with it the right way.

Don't feel that no one can help you in this situation. There are experts who can help you to handle this awkward situation the right way.
Understand the problem:
At this stage, you need to try to understand Why and How?

Why means finding out "Why your Visa is refused."

And, How can you handle this situation in your favor?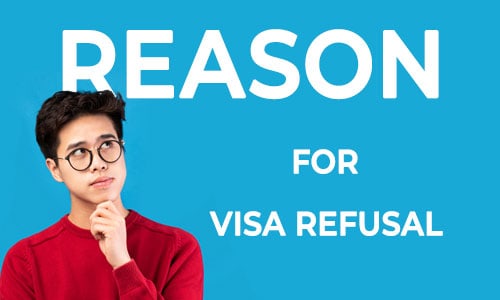 Reasons for Visa Refusal
There are many reasons due to which the Department of Home Affairs could refuse your Australian Visa application, and it is time to find out the reasons that could have caused your refusal. 
General Reasons for Visa Refusal:
There are many Visa streams or Visa subclasses under the Australian Immigration system. Some eligibility criteria are applicable on all streams, while others could be specific to your particular Visa Stream. Failing to comply with these general and Specific visa eligibility criteria could be one of the reasons for your Visa refusal.
Some common or general reasons for Visa refusal are outlined below:
Visa refusal on the health and character grounds
If you are unhealthy or have some contagious disease, your visa is likely to be refused on health grounds.

If unfortunately, you have a criminal record, then your visa might be rejected based on Character grounds.
The department was not satisfied with the provided information to verify your claims in your Visa application. This is general caused due to insufficient documentation.

You applied for the wrong type of Visa Subclass.

Inability to provide the further information asked by the Department.


After you lodge your visa thinking that you have provided sufficient information, the Department might ask for further information. If this happens, the Department will give you 28 days to do so. Be very careful with these deadlines as they may trigger the refusal.
Providing false or conflicting information to the Department of home affairs 

It usually happens when you come to Australia on a student visa or any temporary visa applied by the offshore migration agent or by yourself and you did not keep a record of the past information you provided to the department. The information provided in the past application is not matching the recent application is one of the reasons for a Visa refusal.

Submission of incomplete or false information for example; hiding information from the department.
Specific Reasons for Visa Refusal:
Specific reasons are those reasons that particularly apply to your Visa Stream. We cannot cover possible reasons for refusal for each type of Visa stream. However, we will try to explain the concept below using examples of few Visa streams.
For example:
Subclass 485 Example:


Not fulfilling the criteria of the particular visa, especially "At the time of Application criteria" or "At the time of Decision criteria."
Applicants for Subclass 485 need to be very vigilant with fulfilling the requirements, especially at the time of visa application. For example, suppose you are applying for SC 485. In that case, you must provide the complete letter of your studies, English test, and adequate health insurance at the time of application and not after the application is lodged. Not providing any of these documents may result in the refusal.
Student Visa Subclass 500 Example:
The case officer is not convinced that you will be a genuine temporary entrant. The word "genuine temporary entrant" means that you were not able to convince the case officer that you will leave Australia after completing your studies.

You are not successful in establishing the case officer that you have strong ties with your home country.

No relevancy of the applied course with the current qualifications or experience.

Your future plans mentioned in your Statement of Purpose are not well defined which correlate with your choice of study in Australia.

Bogus Documents.

You may not be able to fulfil the financial requirements or English requirements.
Example for Visitor Visa Refusal:
Common reasons for the visit visa for Australia are pretty much that either you are not able to convince the case officer with your strong ties with your home country or you are not able to demonstrate that you have much better financial aspects to cover your cost in Australia.
The supporting documents you have provided in support of your visa application might not be verifiable from a third party. For example, if you have mentioned that you have three years of experience and your employer might not be available to verify that experience, you might get a visa refusal.
For certain Visas, the sponsor of the applicant failed to meet the requirements.

Mis-calculation in Points.
Natural Justice Letter from the Department Under Section 57
For some applications, the department issues a Natural Justice letter before refusing a Visa.  
You must be very careful if you have received a natural justice letter from the department. Take it as a warning sign, as the refusal of your visa application might be around the corner. 
The Department of Home Affairs of Australia issues S 57 natural justice letter if there are substantive reasons why the visa application should be refused. Do not take it easy! Along with the section 57 natural justice letter, the Department will also invite you to comment. They will give you seven days or other strict deadlines to do so. Take good care to calculate cautiously when this deadline starts and when it ends. You have to be very careful while writing the response to this natural justice letter as it may further prejudice your application.
Be very vigilant in responding to the S-57 letter!
You must be very careful in responding to this letter and comprehend all the details asked by the department. It is very worthy of taking the advice of someone who has got extensive experience in dealing with such letters as a single mistake will definitely result in the visa refusal.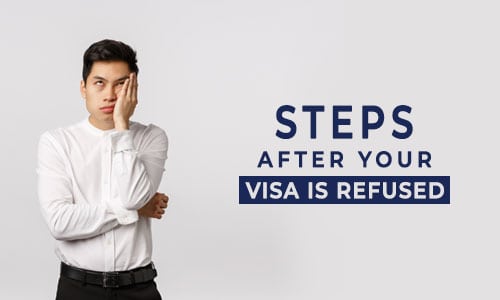 Steps After your Visa is Refused:
Step-1: Assess the Reasons for Refusal based on the above information. Read the refusal letter and try to find out the reasons that caused the Visa refusal.
Step-2: Note down if the department has given you the right to review or appeal and note the timeframe within which you must lodge your appeal if you decide to do so.
Step-3: It is the stage where you must seek the help of an experienced migration agent. Please note that the information provided on websites is general in nature, and the actual legal requirements are much complicated to understand. The Migration agents are trained to understand the legal framework of immigration law and are better positioned to assess the real causes of your refusal.
Step-4: Find out should you or can you Lodge your visa application again?
The answer to this question really depends on your location at the time of visa refusal.
If you are offshore (outside Australia) 
You can definitely lodge your visa application again as many times as you want. Of course, this time, the visa application should have a very strong submission and complete information, avoiding all those points on which the previous visa application was refused. In your submission, you must be very persuasive that WHY you think your visa application has sufficient merit for grounds of a grant of your particular visa application. 
If you are onshore (inside Australia)
The answer to the above question depends on whether you are on a substantive visa or not.
Any Visa is a substantive visa apart from the bridging visa A, B, C, D, or E.
So if you are on any substantive visa then YES!!  you can apply again for the visa which has been refused.
However, suppose you have any kind of bridging visa and get a refusal. In that case, technically and legally, you are section 48 barred and, unfortunately, won't be able to apply for any other visa while onshore. (exceptions apply). 
What is section 48 barred!!
It means that when you are in Australia and get a visa refusal while on the bridging visa, you can not apply for any other visa except the partner visa, protection visa or SC 444. 
Step-5: If you are not inclined or not allowed to reapply for the visa again, your next step could be to use your right to appeal and apply for "Visa refusal Appeal" application to the respective Administrative Appeals Tribunal.
What Next After the Visa Refusal:
Depending on your individual circumstance, you have the following options:
You may Re-apply your Visa again.

You have to Lodge Review Appeal at Administrative Appeal Tribuna (AAT) first if you have the right to appeal.

In case the AAT decision is not in favor, you may consider going for:
Federal Circuit Court. Or,

Go for Ministerial Intervention.
Brilliant Migration club strongly suggests you to know more about (Administrative Appeals Tribunal) AAT Appeals.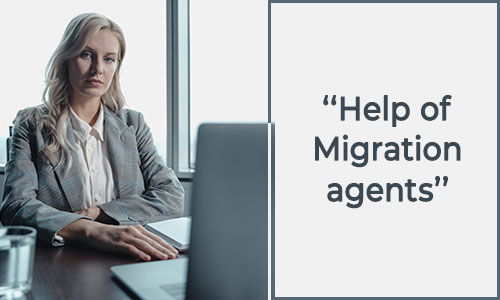 How Can our Expert Migration agents help you?
Brilliant Migration Club has successfully helped many Visa Holders to avoid Visa refusal or have helped revoked their refused Visa.
We will fully assess and review your Visa refusal documents and your prospects to Appeal with the Administrative Appeals Tribunal (AAT). 
We will help you assess how the department has interpreted the law in your case and would provide you with frank and open advice on how to deal with your current situation.
Get in touch if you would like to speak with our registered migration agents.